1000m/min High Speed Building Wire Extrusion Line
Views:43 Author:Emma Publish Time: 2019-08-20 Origin:Site
100+50+50 High speed building wire extrusion line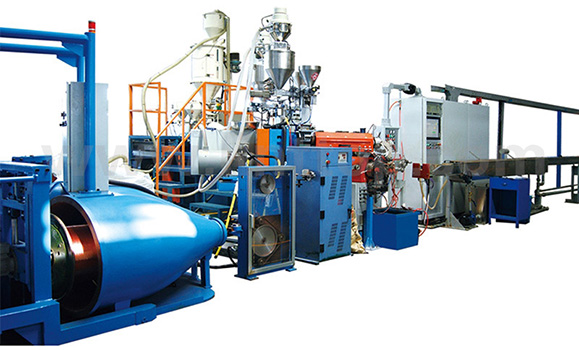 This line is used to produce 2.5mm2 conductor BVR building line. (It also can be directly connected to the breakdown machine and intermediate wire drawing machine while producing BV line). It can achieve daily operation of 800m/min with daily production capacity can be up to 1000km (800M/Min*60Min*20H≈960KM) and the annual output value is more than 56 million dollars. Equipment investment cost is less than 1% of annual output value. Low input and high production capacity allow manufacturers to gain more competitive advantage and profits.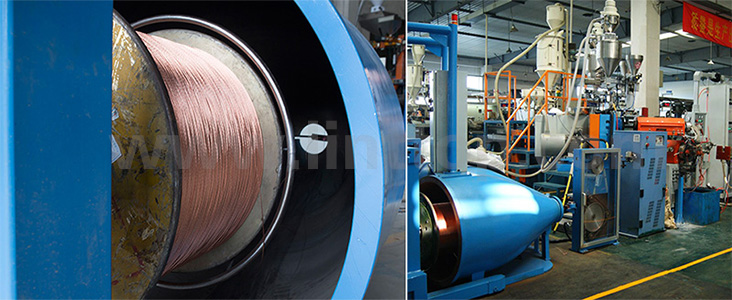 Dual flyer pay-off (Conductor)
BVR/BV conductor welding makes the equipment to achieve continuous production without stopping, deceleration and bobbin changing.
Quick color change system
Without stop and deceleration, this production line can switch different colors continuously (green, red, blue, yellow and black) to realize automatic production of preset orders.

Fully automatic coiling and film shrinking line
Working efficiency: 3*2 coils/min, low replacement frequency of wire coil, automatic completion of coil +film coating, low labor intensity.
Printing code + labeling machine
The label is printed online in real time, which can trace the source of products and eliminate fake and shoddy products.
Robot stacking
Working efficiency is 8 coils/minute, it becomes neat, uniform and elegant appearance after stacking.
Stretch wrapper
Intelligent loading reduces labor intensity greatly.
The production line can meet the high-speed and efficient extrusion requirements of building wire manufacturers.
After the coil is wound around the film, the storage and transfer methods such as storage and transfer are concentrated in trays.
More detailed production line configuration and more construction line solutions, please visit our official website or consult our sales.
About Lint Top
At Lint Top, work is performed in a highly collaborative manner.With great sales performance, our employees connect with customers all around the world. Lint Top can help you in wire and cable solution, including but not limited to the following products: Wire drawing, stranding machines, enameling machine, HV test equipment, pay-off&take-up, reels and so on. Learn more about Lint Top's creative solutions to the world's problems at www.linttop.com or on Twitter @cablelinttop or on Facebook @Lint Top.
Official Contact:
Ashley Yin www.linttop.com sales@linttop.com WhatsApp: 0086-15162145573