Φ2600 Drum Twister Order
Views:31 Author:Emma Publish Time: 2019-03-28 Origin:Site
Lint Top is helping our customer complete a key section of project. It is a tough cooperation.
Lint Top just got an order, Φ2600 drum twister which is used for cabling power cables of great cross section, as well as nonmetal taping and steel wire & tape armoring from our long-time cooperation partner.
Speaking of performance, the cabling out diameter can be finished with Φ25~Φ120mm, the maximum rotated speed of cage and rotating traction can be up to 45r/min, the maximum traction line speed can be up to 50 m/min.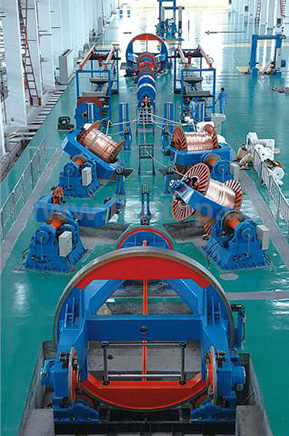 (Drum Twister)
As the important unit, Φ2600mm central rotary pay-off adopts fork type, driven by individual motor. It can be rotated with the take-up synchronously, or to be locked and manual controlled. Equipping with a set of sliding trolley makes bobbin-changing convenient. Steel wire armoring unit suitable for basket pay-off can provide up to 80 steel wire.
In addition, Siemens S7-1500 and Danfoss FC-300 series AC frequency converter drivers is used in this equipment to realize its precision control and stable speed.

More information and relative news, we will update on our website latest news section.

About Lint Top
At Lint Top, work is performed in a highly collaborative manner.With great sales performance, our employees connect with customers all around the world. Learn more about Lint Top's creative solutions to the world's problems at www.linttop.com or on Twitter @cablelinttop or on Facebook @Lint Top.
Official Contact:
Ashley Yin www.linttop.com sales@linttop.com +86-516-85715085