Bridging the Gap between Customer and LINT TOP
Views:14 Author:Emma Publish Time: 2018-12-29 Origin:Site
Our Brazilian customer ordered the FTTH deal again! It is the second cooperation in this month and third cooperation in total, we want to thank the trust and satisfaction from our customer. The central loose tube type cable production line is mainly used to produce central loose tube type outdoor cable which 2~12fibers is in it.

Speaking of the former cooperation, the three-meter double-layer wheeled water tank was used in the extrusion line instead of the previous 12m-long water tank due to the limitation of the clients' plant. For line configuration, this line adopts LT65×25 extruder with Danfoss controller. The extruding head is equipped with four heating zones and mounted with movable pedestal for needle. It is convenient to move the needle into/out of the head. The extruding head is connected to the extruder with a half type clamp and adopts concentric extruding head and die.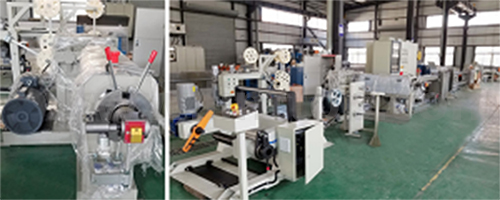 (LT65×25 Extruder)
The three successful cooperation represent our efforts brought forward rather than genuine growth. Trade worries may be behind this business. Discussions can bridge the gap between customer and us. Read more information via sales@linttop.com.