Dispatch of LT300 Continuous Extrusion Production Line
Views:6 Author:Emma Publish Time: 2018-10-26 Origin:Site
In October 2018, we dispatched the LT300 continuous extrusion production line which is used for copper flat wire, round wire, commutator segment and other solid copper conductor to Algeria.
In terms of continuous extrusion machinery, LT300 adopts special designed extrusion wheel, chamber and die. Because it decreases energy consumption and cut down the cost of production, the output is very high compared with same mode machine. The shoe contains the die-chamber assembly that can be opened and closed easily by hydraulic cylinder. The extrusion wheel of the machine can be replaced easily with the help of supplement tooling.
On the other hand, hydraulic and lubricate system is a different feature from above one. The extrusion machine operates separated hydraulic system to clamp the shoe in place by hydraulic cylinder. The system will decrease the fault rate of hydraulic systems, optimize operations and improve machine reliability by using low pressure and energy accumulator. Separated lubricant system ensures that the bearings are lubricated adequately and correct operating statuses are maintained.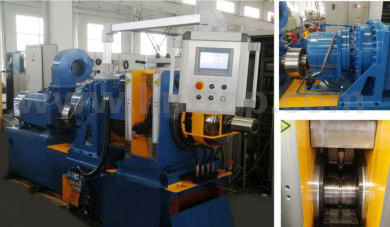 (LT300 Continuous Extrusion Production Line)
It is also, furthermore, far better than the usual type in the electrical system. The LT300 electrical system adopts SIEMENS S7-1200PLC controller, ABB DCS550 DC Driver and all major components are products of ABB Electricity.
Lint Top offers a diverse range of extrusion machine such as triple-layer co-extrusion dry-cure CCV line, high speed insulation extrusion line, building cable extrusion line and so on. Our different types of extrusion machines help customers to improve product quality, increase productivity and realize bottom-line advantages. You may contact us via sales@linttop.com, our official Facebook account @Lint Top and Twitter account @cablelinttop.