Installation and Commissioning of Coloring Equipment
Views:28 Author:Emma Publish Time: 2019-04-23 Origin:Site
On 19th April, Lint Top finished the installation and commissioning of optical fiber coloring equipment in South Africa. Some of you must noticed that we have released its dispatch news on December 26 last year. Three months later, finishing the final step means another perfect cooperation since our old friend are satisfied with our service and the equipment runs smoothly.
Equipped with 7.5kw power supply and structure speed less than 2000m/min. The movable optical fiber pay-off unit is driven by an AC servomotor. In order that the optical fiber can be paid off positively and align automatically, 750W Japan Panasonic AC servo system.
Basing the progress of coloring in the fiber coating, the coating material of optical fiber is cured in the UV curing Oven. And because of the high speed of the coloring, the curing is committed in space where is filled with inert gas.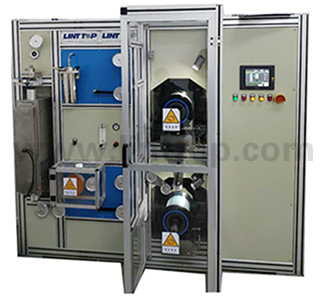 (Optical Fiber Coloring Equipment)
About Lint Top
At Lint Top, work is performed in a highly collaborative manner.With great sales performance, our employees connect with customers all around the world. Learn more about Lint Top's creative solutions to the world's problems at www.linttop.com or on Twitter @cablelinttop or on Facebook @Lint Top.
Official Contact:
Ashley Yin www.linttop.com sales@linttop.com +86-516-85715085