LINT TOP IN Düsseldorf
Views:9 Author:Emma Publish Time: 2018-04-30 Origin:Site
From April 16 to 20, Lint Top participated in 2018 Düsseldorf International Wire Exhibition. Lint Top did plenty of preparation for the exhibition. Lint Top attracted many customers to inquiry our products and gained more cooperation as usual.
Optical fber production line is our main product for the show, including secondary coating line, FTTH drop cable extrusion line, optical fiber sheathing Line and optical fiber SZ stranding line.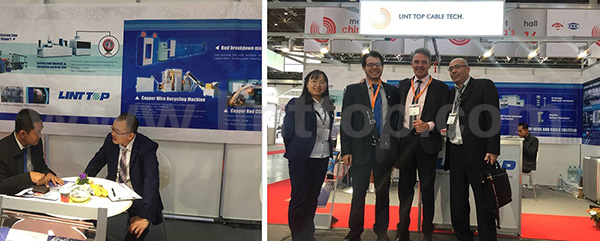 Among the above machines, secondary coating line is an extremely important production line. Secondary coating line is specially designed for 1-12 fibers Jelly filling loose tubes, dry loose tube, single layer/dual layer loose tube and micro-module tube. The extruding material can be PBT, PP, PE, PVC, Nylon, HFFR etc.
(Secondary Coating Line)
It has many features as followings:
Adopts fully automatic dual-reel take-up, reels changing reliably;
Adopt smart design for bubble remover device;
With highly accurate jelly filling die to ensure the high speed production and etc.
If you have special requirements about secondary coating line, please contact us and we will meet your requirements.
Except the fiber production line, we also showed HV test equipment, drawing lines, etc. If you didn't have a chance to visit our booth at the 2018 Düsseldorf International Wire Exhibition in German, please contact us through e-mail sales@linttop.com for detailed information. You will learn Lint Top's high speed, precision equipment with innovative solutions, which can bring your business with the best quality service.