Quality Inspection of Punching Bobbin
Views:13 Author:Site Editor Publish Time: 2018-04-16 Origin:Site
July 15th, 2017, Lint Top sent professional technical staffs to the factory inspection. The export of the product is punching bobbin.

Dimension either according to customer's specifications or GB4004-83, JB/T8997.4-1999, DIN46395 standard.
For cable, steel wire, steel rope, copper, aluminum and welding wire, ect.
Process, one-way or shipping bobbin.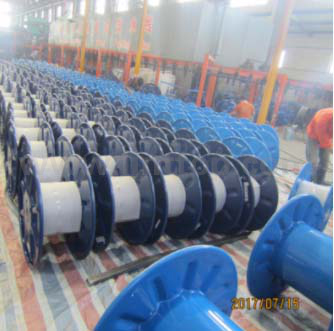 Strict dimensional standards
There are strict technical requirements for the production of wire reels. The wire plate will be welded and shaped so that the cylinder can be rounded. Wire plate welding surface clean, no welding waste. Ensure plate, cylinder and width, welding and welding tube should be together.
Lint Top provides various specifications, various kinds of wire coil. These reels can be customized according to customer requirements.