The Dispatch of Cradle Type Laying-up Machine
Views:39 Author:Emma Publish Time: 2019-04-18 Origin:Site
On 19th April, Lint Top dispatched the cradle type laying-up machine which is mainly used for cabling and taping and armoring power cable of 3 cores, 4 cores, 5 cores, "4+1"cores, "3+2"cores.
The max diameter after cabling is Φ65mm, the rotating speed of cage is between 10.9r/min and 26r/min and it was equipped with step-less pitch.

1+1+3 cage is composed of Φ1250 bobbin carrier, Φ1250 bobbin carrier with bow and Φ1250/3B cage, driven by individual motor and controlled by frequency converter, left and right rotation is available. Equipped with left and right rotation function, which can strand round cable with back-twist and sector cable stranding without back-twist. The bearing for the main shaft of cage is from SKF, other bearings are from HRB, ZWZ and LYC products.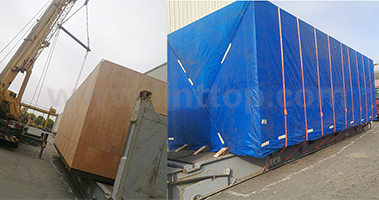 (Cradle Type Laying-up Machine)
Here is the link of cradle type laying-up machine, if you are interested in it.
About Lint Top
At Lint Top, work is performed in a highly collaborative manner.With great sales performance, our employees connect with customers all around the world. Learn more about Lint Top's creative solutions to the world's problems at www.linttop.com or on Twitter @cablelinttop or on Facebook @Lint Top.
Official Contact:
Ashley Yin www.linttop.com sales@linttop.com +86-516-85715085