The Dispatch of FTTH Drop Cable Extrusion Machine Line
Views:8 Author:Emma Publish Time: 2018-05-23 Origin:Site
In May 2018, LT50 FTTH drop cable extrusion line will be dispatched to Brazil after we signed the initial acceptance report. The line is mainly used to produce FTTH cable and the sheath material can be PVC, LSZH, etc. We value our customer which is a state-owned enterprise and has many years of sales experience in the optical fiber and cable field very much just like we used to do. Being able to work with such a great company is a huge honor for us.
The diameter of fiber is 0.254mm and the speed for 12 fibers is 40m/min. There are two pay-off reels on the upper and lower sides of the cabinet which is driven by the motor. And the swing of the dancer is converted into a control signal through offset sensor to control the gain with high precision. The extruder which adopts the most mature and stable technology in China is controlled by AC motor and Danfoss inverter. FTTH drop cable extrusion line is also equipped with industrial computer to achieve real-time monitoring of the production line.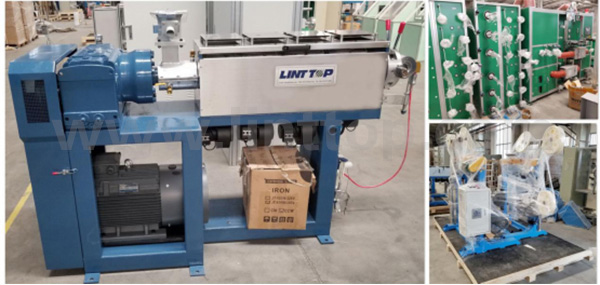 (LT50 FTTH Drop Cable Extrusion Line)
This is the first time that we cooperate with this Brazilian customer, so we compared three different technical proposals to choose the most suitable one which can meet our customers' demand. Satisfyingly, the finished line is fast and easy to set-up and the modular line component concept allows the production of the buffers for a variety of different kind of fiber optical indoor cables. And we promise that we will provide comprehensive technical support and after-sale service as usual. Lint Top want to thank all of our customers for helping us to grow up and we also look forward to helping you to meet your production requirements! For more technical specifications on the machine and technologies available from Lint Top, please e-mail through sales@linttop.com.