The Dispatch of LT800 Buncher
Views:49 Author:Emma Publish Time: 2019-04-30 Origin:Site
On 28th, April, the LT800 high speed double twister buncher is dispatched together with 2 heads motorized pay-off. The buncher is usually used for the multi-strand twisting of bare copper, coated tin, coated silver, copper-clad aluminium wire, enamelled wire, insulation wire, and other special alloy wires. Regular twisted wires can be done by this buncher instead of stranding machine.
In case you are not familiar with equipment, lint top will introduce some characteristics to you in this news. The single wire diameter range is different in Class 5 conductor and Class 2 conductor. φ0.30 mm-φ0.75mm for Class 5, φ0.67 mm-φ1.7 mm for Class 2. The OD range of buncher strand is less than φ3.2mm.

PN800/PN630 take-up is available for your plant. Equipped with 29.06mm-157mm stranded pitch and optional reversing, this equipment also adopts electro-magnetic brake. It can automatically stop when inside and outside wire breaking or any other faults happen. For the 800-630mm 2 heads motorized pay-off, it adopts electromagnetic braking and the pay-off speed is 0-250m/min.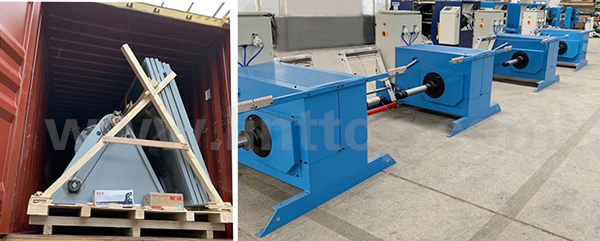 (LT 800 High Speed Double Twister Buncher and 2 Heads Motorized Pay-off)
About Lint Top
At Lint Top, work is performed in a highly collaborative manner.With great sales performance, our employees connect with customers all around the world. Learn more about Lint Top's creative solutions to the world's problems at www.linttop.com or on Twitter @cablelinttop or on Facebook @Lint Top.
Official Contact:
Ashley Yin www.linttop.com sales@linttop.com +86-516-85715085