The Dispatch of Optical Fiber Coloring Equipment
Views:13 Author:Site Editor Publish Time: 2018-12-26 Origin:Site
On December 11th, our optical fiber coloring machine was dispatched to its' destination, South Africa. The equipment is mainly used to color the surface of optical fibers and makes it easy to identify the multi-fibers within the loose tube. It is also used to rewind fibers.
Helen, our sales department colleague, who contributed to this and previous cooperation, offered this equipment with 7.5kw power supply and structure speed less than 2000m/min (Max.3500)for our customer. The movable optical fiber pay-off unit is driven by an AC servomotor. In order that the optical fiber can be paid off positively and align automatically, 750W Japan Panasonic AC servo system.
Under a belief called trust, more and more cooperation came to the end with a successful way these years. Uncertainty about how reliable the company would affect customers' choices on partners. Now let us turn to another characteristics. Basing the progress of coloring in the fiber coating, the coating material of optical fiber is cured in the UV curing Oven. And because of the high speed of the coloring, the curing is committed in space where is filled with inert gas.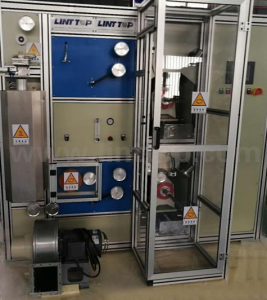 (Optical Fiber Coloring Machine)
More generally, the demands of customers governing the choices of partner. Lint Top wants to start more cooperation with you. We think that our combination of performance and budget has allure.