The Inspection of Double Head Vertical Taping Machine
Views:8 Author:Emma Publish Time: 2017-05-16 Origin:Site
On May 10 2017, our technical colleague carried out a quality inspection of taping machine. This double head vertical taping machine is designed for the special cable, applied to wrapping PTFE tape, aluminum tape, semi-directional tape, silver plated tape, especially applied to the tape with small tension, easily stretched. And our colleague signed the initial acceptance report after strict inspection and confirmation.
The max speed of our taping machine can be reached to 1500 rpm and the taping width is 2mm to 20mm. This double head vertical taping machine is mainly used to produce the conventional cable and high-quality cable. Each taping head has two motors, testing the live tension through the tension sensor. This function makes the taping much better than the passive taping. Although the display of taping tension range is from 100g to 2000g, it will be designed by the customer's material in reality.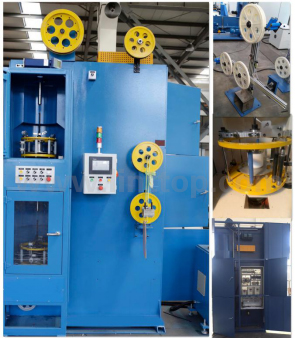 (Double Head Vertical Taping Machine)
Our highly experienced team allows us to provide the technical support and expertise customers demand. We focus on collaboration with our customers and continuously strive to satisfy all of their technical, logistical and commercial needs. It is the reason that Lint Top become a reliable source of high quality products for the wire and cable industries. Please call 0086-516-87318029/87318026 to find out more information once you are interested.