The Installation and Commissioning of Silicon Core HDPE Tube Extrusion Line
Views:9 Author:Emma Publish Time: 2017-06-25 Origin:Site
In June 2017, our South African customer signed the acceptance report in South Africa after the successful installation and commissioning about the silicon core HDPE tube extrusion liner. HDPE silicon core tube is a new type of composite pipe with silica gel solid lubricant on the inner wall, which is widely used in optical cable communication network system.
HDPE extrusion screw adopts high efficiency extrusion process design, which has good plasticizing effect and high efficiency. The special design of high-pressure positive co-extruded pipe die-head enable cross-head with more melt pressure, which can improve the quality of produced pipe and ensure the material can be extruded more faster and smoothly. The biaxial laser caliper system can be used to monitor product diameter, ellipticity and position value within the test interval, etc.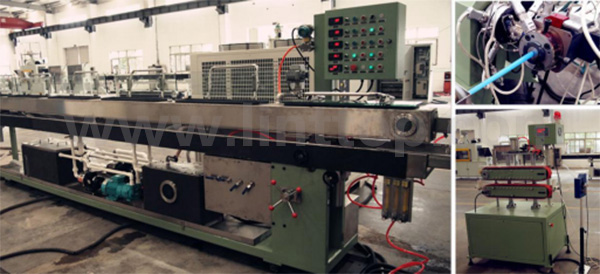 (Silicon Core HDPE Tube Extrusion Line)
Given the advantages described, there are all parts adopt international top-level electrical components to ensure stable operation of the equipment, precise speed and tension control. The feedback we've received from customers who add the extrusion line into their production line was excellent. If anyone would like to see our production lines and the way we manufacture them, we would be glad to invite them to any of our production plants. For more information on visiting, contact Lint Top at tel. 0086-516-87318029/87318026, sales@linttop.com.