The Interview of Impulse Voltage Test System
Views:68 Author:Emma Publish Time: 2019-07-11 Origin:Site
In October of 2018, Our high voltage equipment product, impulse voltage test system which bought by Algerian customer, was interviewed by ENTV. By doing impulse voltage to HV power product, standard lightening impulse, switch impulse can be generated.
In this interview, these components of this equipment was introduced specifically in the video. Like impulse generator, low impedance capacitive divider, digital measure and analyze system, charging system and others.
Its rated voltage is ±100kV-6000kV and rated energy is 2.5kJ-900kV.
As a necessary equipment for testing HV power product, impulse voltage test system is applied to power transformer, HV mutual inductor, HV switch, power cable, etc.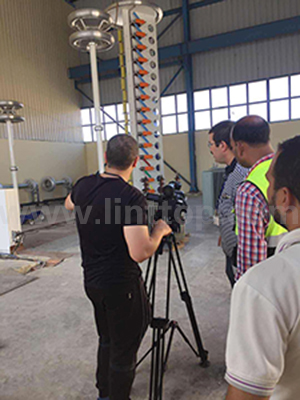 (Impulse Voltage Test System)
In addition to showing our ability, we are also committed to bringing high quality test equipment to customers.
About Lint Top
At Lint Top, work is performed in a highly collaborative manner.With great sales performance, our employees connect with customers all around the world. Learn more about Lint Top's creative solutions to the world's problems at www.linttop.com or on Twitter @cablelinttop or on Facebook @Lint Top.
Official Contact:
Ashley Yin www.linttop.com sales@linttop.com +86-516-85715085