The Order of Compounding System and PVC Mixing System
Views:38 Author:Emma Publish Time: 2019-01-20 Origin:Site
As far as wire&cable solutions are concerned, Lint Top provides an effective project for Ecuadorian customers.
The production has began after the order of compounding system and PVC mixer is settled down.
Two-stage Compounding System
The main reason to buy is that our customer want PVC cable materials. And it has excellent performance to fulfill the requirements. Its throughput range which is depending on formulation, raw materials and operation conditions of extruder is 500-1000kg/h.
The advantages of machines go far beyond that, like:
Closely intermeshing screw profile with screws that are self-wiping at narrow clearance;
Modular building-block system for screw elements and screw barrels;
Special mixing and shearing elements with varying effects;
High screw speed up to 600 rpm;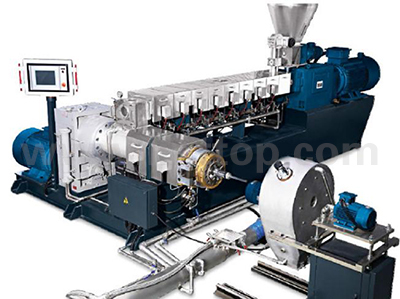 (Two-stage Compounding System)
If you are interested in our machine, please click this link: https://www.linttop.com/compounding-line-pelletizing-line.html
PVC mixer
The PVC mixer from Ecuadorian customer is a challenge for us since it's new to us. The system is a mixed conveying project for PVC granulation. The main raw materials are PVC powder, CaCO3 powder and auxiliary agent. All materials are measured manually and then poured through the small bag feeding system.
Main technical parameters:
The content of CaCO3 powder in the material is less than 30%; The pellet feeding station is near the mixer frame to the mixing system. The horizontal distance of pipeline conveying is less than 6 meters, and the vertical distance is less than 7 meters; one set of srlz500/1000 mixing unit;
In addition, the parameters of liquid metering pump: 1.1kw power, 0.3mpa outlet pressure and 1800L/ h flow rate.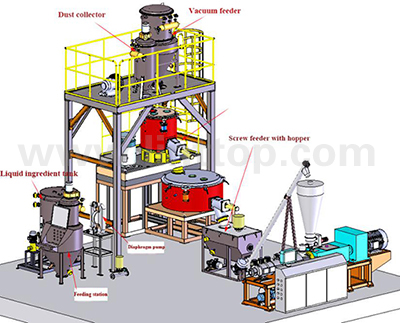 (Flowchart of PVC Mixer System Design)
About Lint Top
At Lint Top, work is performed in a highly collaborative manner.With great sales performance, our employees connect with customers all around the world. Learn more about Lint Top's creative solutions to the world's problems at www.linttop.com or on Twitter @cablelinttop or on Facebook @Lint Top.
Official Contact:
Ashley Yin www.linttop.com sales@linttop.com +86-516-85715085