Second Inspection of Whole Factory Project--Extrusion Line
Views:28 Author:Emma Publish Time: 2019-09-11 Origin:Site
At the end of August, Lint Top carried out the second equipment inspection of the whole plant project including LT 120+120+65 filling and sheathing extrusion line, Φ630/6+12+18 rigid frame strander, 800 rewinding machine line, 16 fine wire drawing machine with continuous annealer and bow twister after the first inspection.
Speaking of filling and sheathing extrusion line, the purpose is used for extrusion soft PVC, PE/crosslinked PE, HFFR thermoplastic plastics. The whole production line adopts tandem extrusion, the first 120 extruder is used for filling extrusion and the second 120+65 extruder is used for sheath extrusion. The maximum sheathing O.D and the haul-off force are up to 60mm and 1600kg respectively.
As for the maximum extrusion capacity aspect:
580kg±5%/h for PVC
400Kg±5%/h for XLPE
550Kg±5%/h for HFFR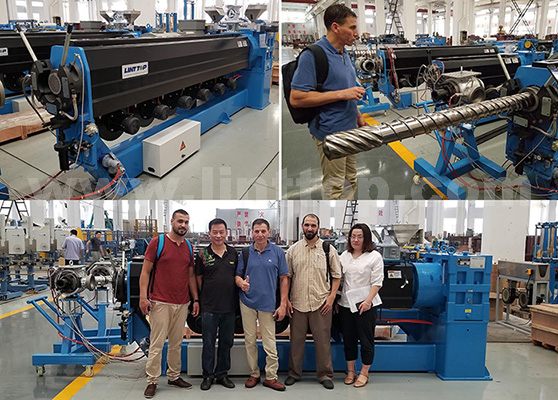 (The Inspection of Whole Extrusion Line)
The production line is equipped with 3 Sicora laser diameter gauges which are placed at the 120 filling, hot end 120 extruder and the finished product. In addition, the middle one is involved in the feedback control.
Our Algerian customers express their satisfaction during the inspection process and increase their cooperation confidence with LINTTOP. Now we are working on the shipment.
About Lint Top
At Lint Top, work is performed in a highly collaborative manner.With great sales performance, our employees connect with customers all around the world. Lint Top can help you in wire and cable solution, including but not limited to the following products: Wire drawing, stranding machines, enameling machine, HV test equipment, pay-off&take-up, reels and so on. Learn more about Lint Top's creative solutions to the world's problems at www.linttop.com or on Twitter @cablelinttop or on Facebook @Lint Top.
Official Contact:
Ashley Yin www.linttop.com sales@linttop.com WhatsApp: 0086-15162145573