The Inspection of Φ630/6+12+18 Rigid Frame Strander(Driven By Individual Motor)
Views:39 Author:Emma Publish Time: 2019-09-16 Origin:Site
Accompanied by our colleagues, our Algerian customers inspected the Φ630/6+12+18 rigid frame strander which is specially designed for wire and cable stranding and pressing work for without back-twist stranding wires of Al, copper, ACSR.
Available in 1.5-5.0mm for Al, 1.5-4.5mm for Al alloy, 1.5-4.5mm for Copper in diameter of single wire, this machine is composed of portal non-driven pay off, Φ630mm stationary pay-off, 6/12/18 bobbin frame cage, automatic bobbin loading system for6B/12B/18B cage and etc.
Adopting dual Φ2500 haul-off capstan with max. hauling force up to 18000kg. In addition, cage frame is divided into compacted quartering structure. Each cage is equipped with preforming device on the wire-branching plate, which can be removed when not in use. Also, each cage is driven by motor which can be controlled in both negative and positive from through belt.
*18 cage equips 24 wires synchro stranded tube to produce 61 wires.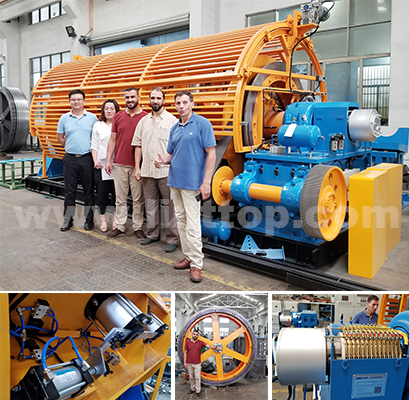 (The inspection of Φ630/6+12+18 rigid frame strander)
Based on machine condition, including previous technical support, adherence to safety and on-time/on-budget business, Lint Top is pleased to announced that we have been recognized as a trustworthy partner by our customers.
Learn more about rigid frame strander here: https://www.linttop.com/rigid-frame-strander.html
About Lint Top
At Lint Top, work is performed in a highly collaborative manner.With great sales performance, our employees connect with customers all around the world. Lint Top can help you in wire and cable solution, including but not limited to the following products: Wire drawing, stranding machines, enameling machine, HV test equipment, pay-off&take-up, reels and so on. Learn more about Lint Top's creative solutions to the world's problems at www.linttop.com or on Twitter @cablelinttop or on Facebook @Lint Top.
Official Contact:
Ashley Yin www.linttop.com sales@linttop.com WhatsApp: 0086-15162145573