The Installation and Commissioning of Four Columns Hanging Type Pay-off and Take-up
Views:11 Author:Emma Publish Time: 2018-11-22 Origin:Site
Lint Top carried out a seven-day installation and commissioning of 750/2000mm four columns hanging type pay-off and take-up machine in South Africa from November 7, 2018. Four columns hanging type pay-off and take-up machine is mainly used for winding various signal cable, optical cable.
The wire diameter range can be between 6.6mm and 34mm, and the production line structure speed is 150 m/min. The machine adopts the way of beam walking and the whole cable tray is used for wiring to achieve pay-off and take-up. For this four column type take up stand, the whole bobbin can traverse on the left and right of hanging stand. The left center and right center can lift at the same time, they also can lift separately. The rotating speed of active center can be divided to 3 gears, which can meet the change of bobbin size. The left and right center can be lifted separately or synchronously. The entire production line adopts the combination control technology of Siemens S7-1200PLC plus 10.2 inch touch screen. The meter length can be set, it will pre-deceleration and auto stop when reach to the meters, and the cumulative length will be recorded too.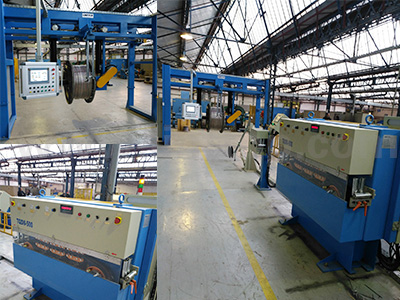 (The Commissioning of Four Columns Hanging Type Pay-off and Take-up)
In the above picture, you can see on-site installation and commissioning process. Like other collect and pay-off series, the hanging type pay-off and take-up machine is easy to operate, good in rigidity and high in strength. For more details about this machine or others, contact Ashely at sales@linttop.com.