Lint Top Completes Successful Inspection of Fine Wire Drawing Machine
Views:23 Author:Emma Publish Time: 2019-09-15 Origin:Site
--The wire drawing machine culminates with great satisfaction.
--The 16 fine wire drawing machine has qualified our customers' inspection for 16 and 8 wires with a 160KVA annealing capacity.
For inlet diameter and outer diameter:
I.D.: 16* MaxΦ1.8mm/8* MaxΦ2.60mm
O.D.: 16*Φ0.15~0.30mm/8*Φ0.32~0.52mm
The advantages of 16 fine wire drawing machine are its horizontal arrangement of drawing wheel, gear transmission, dual motor driven to achieve rapid die-changing. Moreover, mechanical speed can be up to 1800 m/min. In addition, it adopts high precision helical gear driven, spray-type cooling and lubrication.
As for the inverter and PLC:
*The low voltage control elements use French brand Schneider.
*The inverter is Japanese brand Yaskawa.
*PLC and intellectual touch screen adopt Siemens brand.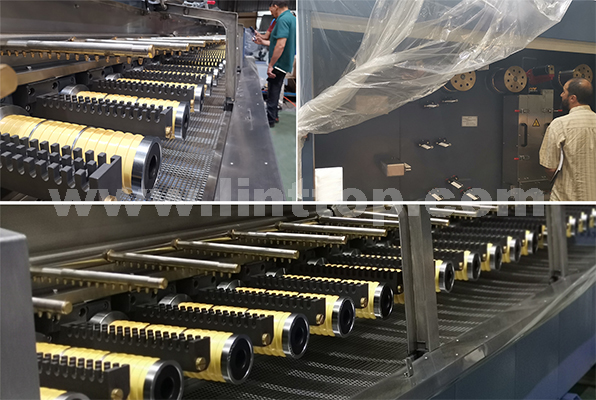 (The inspection of 16 fine wire drawing machine)
"Participation in the whole factory project has further reinforced Lint top's cooperation experience in cable technology and this inspection is an important step to our technical solutions. " says Ashley, General Manager at Lint top. "In the longer term we expect more technical problems in more fields. But in the short term we see us as small part of an overall wire&cable solutions, helping to strengthen our position in traditional fields such as wire drawing, rotating machine or HV testers."
About Lint Top
At Lint Top, work is performed in a highly collaborative manner.With great sales performance, our employees connect with customers all around the world. Lint Top can help you in wire and cable solution, including but not limited to the following products: Wire drawing, stranding machines, enameling machine, HV test equipment, pay-off&take-up, reels and so on. Learn more about Lint Top's creative solutions to the world's problems at www.linttop.com or on Twitter @cablelinttop or on Facebook @Lint Top.
Official Contact:
Ashley Yin www.linttop.com sales@linttop.com WhatsApp: 0086-15162145573